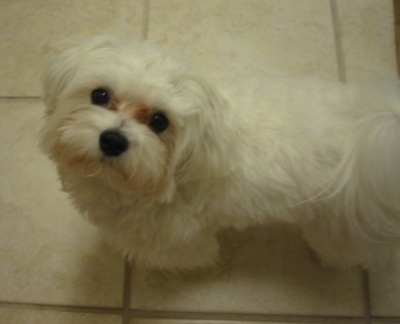 A small, fluffy white dog — I think it was a poodle, but I'm bad with this stuff — bit me on the corner of Degraw St and 4th avenue yesterday, and now I need to track it down to avoid getting a series of very unpleasant rabies shots. Do you live around here and can you help me? Here's what I know:
The little dog was with a larger, German shepherd-like dog.
It was being walked by an Asian/Asian American man and woman, I think age range 30-50, but I didn't get a good look. 
It was Saturday around 2:30pm. 
Yes, I should have gotten the dog's/owner's info. But I actually didn't realize I'd been properly bitten, because after it lunged at my leg twice with no provocation, I checked the black tights I was wearing and saw they hadn't even been torn and I'd only been scratched, or so I thought. And I was late and the owners were already backing away without a word of apology.
Hours later, I found a small actual wound and went to the ER, where they told me I have ten days to either find the dog to find out if it's up to date on its shots, or get a miserable suite of shots. Or die of rabies. 
So if you have any recollection of this dog in the Park Slope area, especially paired with the characteristics above, email me at icarmon@salon.com or, if you know me, contact me on whatever platform you want.  
UPDATE: I think it may have been a Maltese or a Bichon Frise and have added a vaguely similar photo. Also, it's been suggested that because there were two disparate dogs, the people were walkers and not owners. So don't rule out all the fluffy white dogs you know just because their owners don't fit this description. THANKS!